There are so many great kid-friendly DC restaurants that I began compiling a list for my visiting friends and their families. American chains are everywhere (Starbucks, Panera etc.) so I am focusing on DC-specific restaurants and areas in the list below. Links are to the restaurant locations and to the Yelp sites so you can see pics of food and read reviews.
Breakfast Kid Friendly DC Restaurants
District Doughnuts 4 locations in DC: Barracks Row (Eastern Market, Georgetown (Cady's Alley), the Wharf and Union Market.

Hours: Check website for different hours, generally 7 AM or 8 AM open and 4 PM or 8 PM closing.
Notes: Fancy famous doughnuts, gotta check out the pics on Yelp!

Bullfrog Bagels 3 locations in DC: Eastern Market, H Street and Tastemakers

Hours: Open 7 AM to 1 PM.
Notes: Delicious hand-rolled and boiled the old-fashioned way with plain and sandwiches!

Tony's Breakfast H Street

Hours: Open 5:30 AM – 9 PM.
Notes: Casual breakfast place in a row house with pancakes and egg sandwiches.

Open City Woodley Park

Hours: Open 7 AM to 12 midnight.
Notes: Great diner with traditional American breakfast plus some fun additions near the National Zoo.
Commissary Logan Circle (Downtown)

Hours: Opens 8 AM to 11 PM.
Notes: Popular new American Breakfast & Brunch (also open for lunch and dinner) in downtown. (Huevos Rancheros is highly recommended!)

Silver Diner in VA and MD 14 locations, check here.

Hours: Check each store but generally open 6:30 AM to midnight or 2 AM on the weekends.
Notes: Really delicious, fresh traditional American diner that is extremely family-friendly (kids menus, crayons, balloons etc.)
---
Lunch & Dinner Restaurants with Kids in DC
District Taco – Fresh and delicious Mexican (Yucatan style!) food at 12 locations in the area. DC locations include Dupont, Metro Center, and Eastern Market.

Hours: Check locations but usually 10 AM to 10 PM.
Notes: My kids love to try the different sauces at the sauce station. But beware some can be hot!!

Busboys and Poets – A DC icon that has both delicious food and a social change mission. I love the ambiance of a coffee shop but with a full menu!

Hours: There are 7 locations including 14th and V, Brookland, Takoma, Anacostia, Hyattsville and Shirlington. Most hours are 9 AM to 10/11 PM but please check for your location.
Notes: The name comes from poet Langston Hughes who was once a busboy at a DC hotel.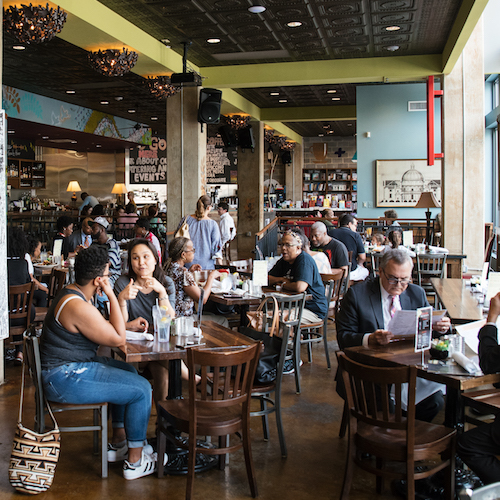 Dukem Ethiopian Restaurant – Located on U Street NW. Great Ethiopian Food!
2 Amys Neapolitan Pizzeria – Located off Wisconsin Ave. in Cathedral Heights.

Hours: Monday through Friday 4 PM to 9 PM and 12 PM to 9 PM on Weekends.
Notes: Simply the best pizza on this side of Italy in my humble opinion! Wood fired, pricy but delicious!
Founding Farmers – Located on Pennsylvania Ave, a great new American restaurant majority-owned by a farmers association. PRobably the "nicest" on this list but still very kid-friendly!

Hours: 8 AM to 9 PM.
Notes: Be sure to make reservations! They also have another restaurant called Farmers Fishers Bakers on K street.
Reren – Delicious Ramen, Lamen, and Chinese food. 2 locations, one in Chinatown on 7th St. NW and one in Georgetown.

Hours: Check locations but usually 11 AM to 9:30 PM
Notes: Make sure to try the soup dumplings!
---
Food Halls and Markets
I would be remiss to not mention the wonderful food halls and markets in DC! These are great, casual places to check out with kids for a snack, dessert or even a whole meal!
Eastern Market – Located in Southeast DC, its the oldest market in DC. There is an indoor market open 9 AM to 5 PM Tuesday through Sunday and a much larger outdoor Farmers market on the Weekends from 9 AM to 3 PM and Tuesdays from 12 Pm to 4 PM.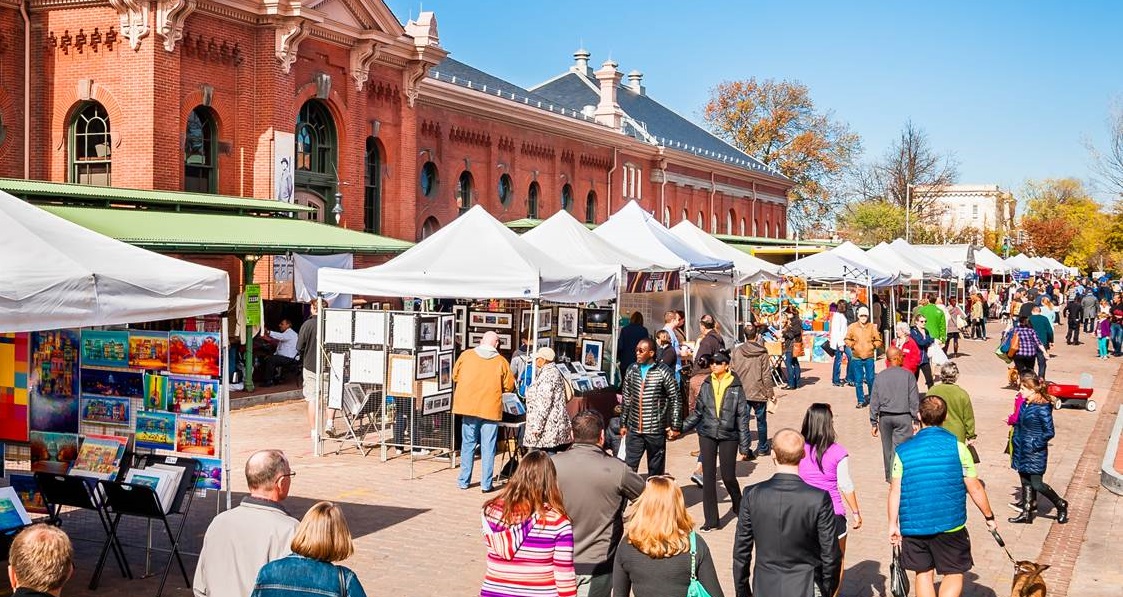 Union Market – Home to 40+ local restaurants and pop up shops. Check out the list here and also check out community events including yoga on the roof!

Hours: Monday thru Saturday 8 AM to 9 PM (closes at 6 PM on Sundays)
The Wharf – "Where DC Meets Water" is a wonderful place to eat and explore with your kids. With restaurants like Shake Shack, Chopsmith, and Falafel Inc, there are tons of Kid-Friendly options. (also Blue Bottle Coffee for a parent pick-me-up!) Check out the full restaurant list (from fancy to casual) here.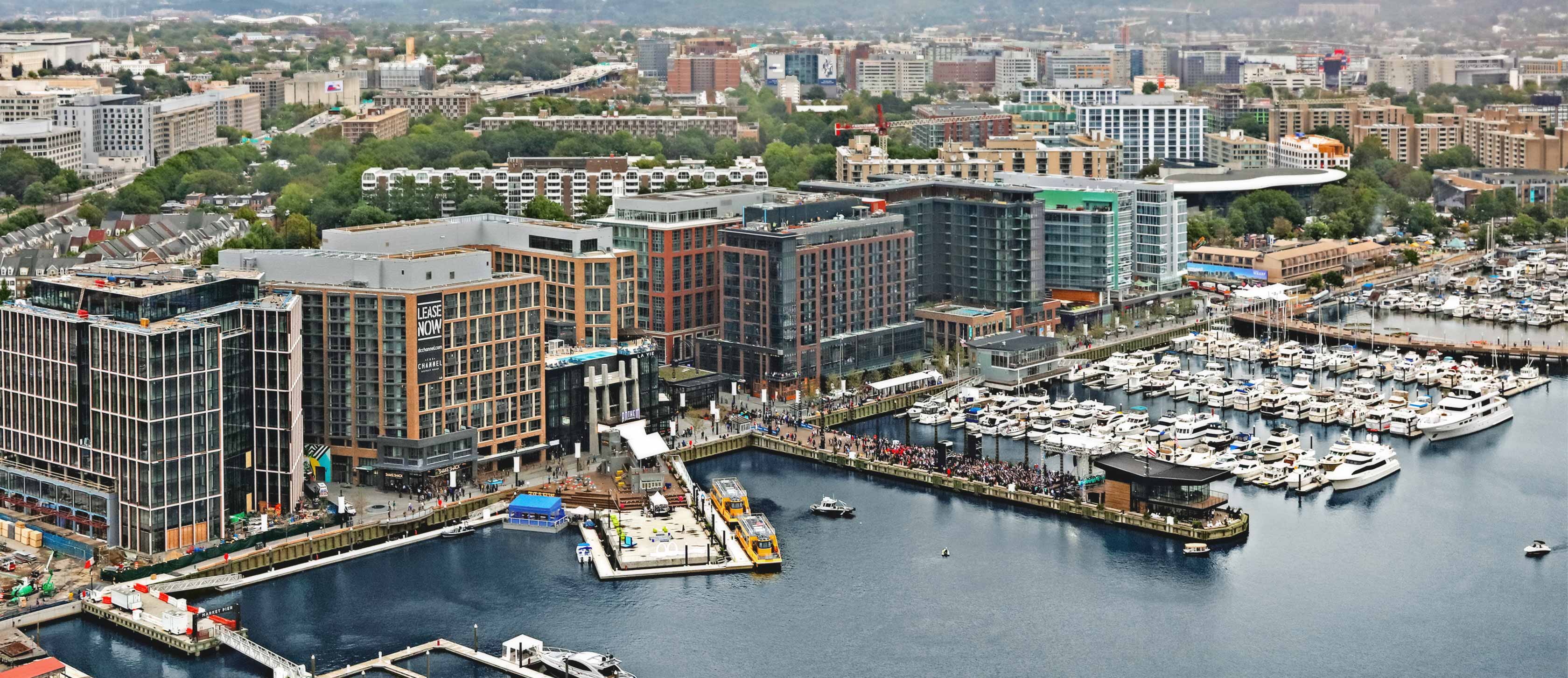 Union Station – Last but not least, don't forget to check out the 35 restaurants at the beautiful Union Station (along with all the trains!) There are many great fast-casual options on the main level from &Pizza, Chipotle, and Chop't. There are tons more on the lower level food court including Chick-Fil-A, Bojangles, and Einstein Bros. Bagels. Full list is here.
---
And check out more in my DC with Kids Guide like 18 Socially Distanced Things to Do in DC/MD/VA and the Best Family Hotels in DC.
Back to the full DC with Kids Family Trip Guide!